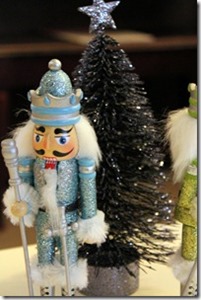 We have 42 days until Christmas.  Between now and then, we have to finish one 7th grade science fair project,  2 camping trips, 2 swim meets, an orthodontist appointment, 3 Christmas choir concerts, and a Saints game.  And somewhere in there, I'd really like to get a few things done around the house.
Enter Organized Christmas's Holiday Home Spruce Up.  I'm sorta following along with their plan for getting your house and heart ready for Christmas.  I've made several lists.  The list that has been the hardest has been our holiday spruce up list.
Now, it's not hard to find things we want to do around here.  It's hard narrowing down the list to something manageable!  We started with a dream list of 40 items and got it down to a list 10 items that we can do ourselves in less than a few hours.  Here they are:
A  replace garbage disposal  $150ish
C  clean spider webs out in carport
B  attic ladder :  $175ish
C  deep clean laundry room
B  new mats at door
B  hang shelves
C  organize bathroom cabinet
C  LEGO organization
C  hang pics in hallway
A  boxes GONE
The As, Bs, and Cs are how we've prioritized them.    I should also note that 2 other items made our short list–if we can find a really good deal.  We're watching Groupon for carpet cleaning and duct cleaning specials!
So…what's on your honey-do list for Christmas?