Today I chose to be a listener.  I'm not sure what I'd hoped to accomplish with this deliberate choice.  Really, I think I just wanted to be there for my kids.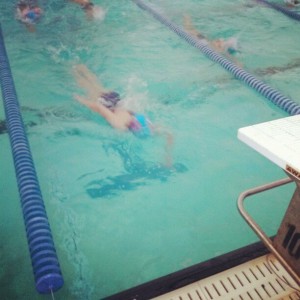 We started our early morning with a swim meet.  By 10:30 we were on the road back home.  You'd think a 4-hour road trip would be the perfect time for conversation.  Well…
The 5th grader had a little school project to finish, so she popped in the ear buds and got to work.  The boy popped in a DVD, watched about 4 minutes and promptly fell asleep!  Oh well!
What did I do?  I left the radio off.  Really, that is such a simple thing to do.  By having the radio off, I could hear the little sighs and such that Addie would make as she worked.  I could ask what she was thinking, where she was stuck, what was on her mind.  I treasure all these little nuggets of conversation.
I learned a major lesson from today's deliberate choice:  Listening is hard.  You can decided to listen, but you can't force anyone to talk.  My job as a wife and a momma is to be ready to listen when I'm needed.