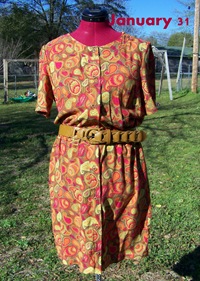 Butterick describes this pattern as a misses' dress that is semi-fitted, straight, above mid-knee dress with front darts, back pleats, self-faced yoke front and neckbands, side seam pockets, outside casing with elastic, self ties and a stitched hem. I made the basic dress, modifying the sleeve to use the fabric I had available.
My favorite element:  The side seam pockets!  I love pockets!
My least favorite element:  The outside casing with elastic.  I love the look it gives the dress, but it made mine too bulky around the middle.
Biggest change:  I knew I would wear a belt with this dress and the self ties would have to go.  I created the casing and ran the elastic from front facing, around the back to the other front facing, stitching the ends in place, eliminating the need for self ties.
Fabric:  This is a 100% cotton that I grabbed off the sale rack at Hancocks.  It feels like a lawn, but is just a little bit heavier.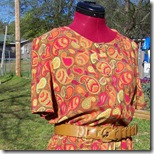 Pattern:  I basically followed the written instructions and found no problems with them.  The pattern pieces were also easy to use/understand.  The dress took my about 4 months to complete:  1 hour to cut, 4 months to sit unfinished, and about 1 1/2 hours to actually stitch up. 
I won't be making this dress again, because I have another dress pattern I like that is very similar.  If you don't have a straight shirt dress pattern that you'd love, this would be a great one to try.  Grab it at a 99cent sale and give it a go, particularly if you are rectangle like me!