September and March are my two favorite months to work in the garden! The beginning of September finds us about 80 days from our first frost in Shreveport, and that's just enough time to get the fall garden well established. Here's my calendar of September's Garden Tasks.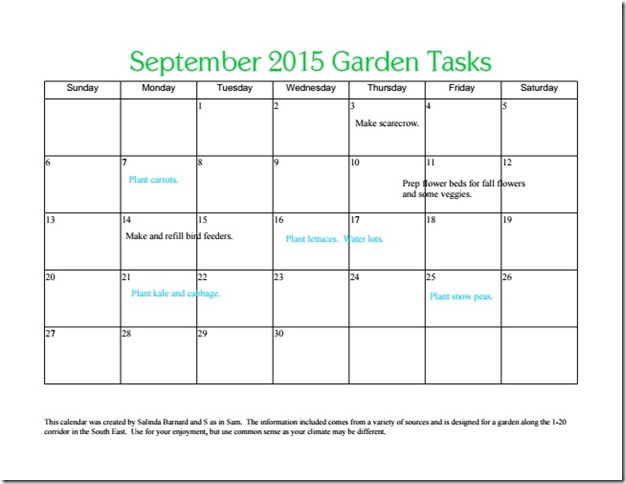 The highlights of September's Garden Tasks:
Bird feeders. I've got them, but I forget to add seed. I'd also like to make a few with the kids to add out at the farm.
Leafy Greens! We are trying to eat 5 servings of veggies a day, and that adds up to lots and lots of green stuff. I'm planting a lot more this year than I have in the past. I'm excited to see if we can eat it all.
Kale, Cabbage, and Broccoli
Snow Peas and Carrots
A scarecrow. Anything to help keep critters out of my pea patch! Plus, I think he would be super cute.
The flower bed. Oh the flower bed. The lack (I mean zero, zip, nada) of rain in July has decimated my flower bed. I'll be tackling it, supplementing the soil and refreshing our plant choices. I'm also going to throw a very veggies into the mix.