Here's a quick peek into our little garden today: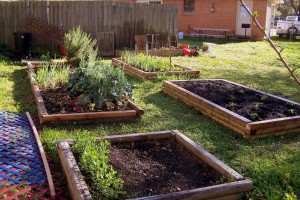 We are eating broccoli, spinach, and asparagus right now, but very, very soon we'll have a whole produce section!  Here's what we're growing.
In the 4 x 4 bed:
sugar snaps
white potatoes
In the 16 x 4 bed:
lettuces
onions
chard
broccoli (from the fall and new)
cabbage
mint
parsley
asparagus
rosemary
In the north 8 x 4 bed:
roma tomatoes (just put these out)
banana peppers
green bell peppers
basil
In the south 8 x 4 bed:
onions
sugar snaps
carrots
tomatoes
chives
In the 2 x 8 bed
I think we have all the raised beds we'll need for a while.  I'm excited about how many veggies we can fit into such a small area. I'm relying on
Square Foot Gardening
 and hoping that we really aren't crowding our plants too much.  I've also done a lot of mixing and matching, mostly based on tips from 
Carrots Love Tomatoes
 .
****note:  I'm in the Amazon Affiliate Program.  I will be monetarily compensated if you purchase through the links above.    That said, I do truly love these books and my recommendations have nothing to do with this affiliate program.