It's almost Valentine's Day!  We don't do much special for Valentine's day, but this year, we've added something new to our weekly plans—a date night!  Honestly, this hasn't been possible in the past.  Our parents don't live in town and babysitters are expensive.  But, now that the kids are older, we are able to get away.  Date nights can get expensive quickly, so we've had fun finding "cheap" things to do.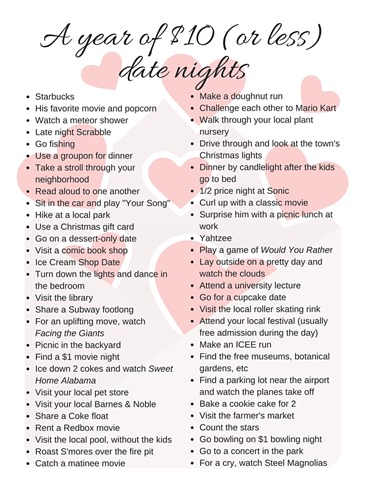 Here are the rules for our date nights:
On the calendar
Intentional
No Phones (except to consult the Scrabble dictionary)
Our goal is simple: Have conversations about life, about dreams, about fears.  Savor our friendship with one another.
If your kids are younger, see what you can do to get away for a bit.  Ask your parents, trade babysitting with another family, find free kids' nights out at churches or gyms.  Whatever you do, make it intentional and spend a little one-on-one time savoring your valentine.